House concerts
Bruce Watson's music is about connecting. His songs are about experiences common to all of us. He can have you rolling about with laughter and move you to tears.
His style of performance is ideal for a small concert setting. He engages audiences by sharing personal stories about his songs. He brings the audience into the songs. Each performance is unique, as the intimacy of a house concert allows the audience to become an active participant in the musical experience.
There is nothing like the experience of being close enough to an artist to observe how they breathe life into a song, or to talk to them after the concert, and ask all the questions that the performance evokes.
All it takes is a room large enough to hold around 20 or more people.
Bruce has hosted concerts for other performers at his own house, so he understands them both as a performer and as a host.
Read more, including hints for holding house concerts, details regarding Bruce's fee, and other useful ideas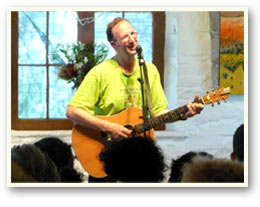 Children's concerts
There's a little bit of the child in all of us, and when Bruce's inner child comes out to play, the fun is on for young and old!
Bruce entertains with all-original songs, with topics ranging from pirates, pet elephants, vampires, hippopotamuseseseses, toddlers-with-attitude, food and fun. And he asks the eternal question: Are we there yet?*
With four children of his own, Bruce has had endless inspiration! He understands children, and tailors his show to any age group. While his material is designed for children, adults also love his shows, appreciating them on a different level.
Children delight in Bruce Watson's songs and antics, with plenty of action on stage and audience involvement.
He has performed his children's shows at festivals, schools and kindergartens throughout Australia.
PS. BYO knock knock jokes!
* The answer, of course, is NO!
Bruce Watson soon had happy clapping happening,
and kids obviously related with great enjoyment and hilarity.
Dot Dawson
St Albans Folk Festival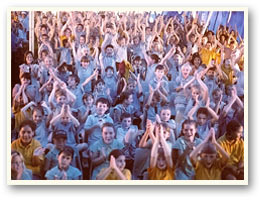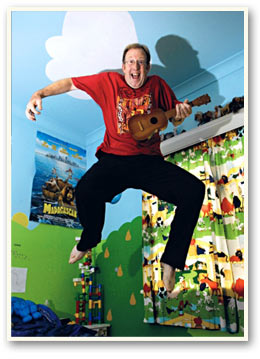 Theme concerts
Bruce has a number of themed concerts on offer for festivals or other occasions.
Our Land, Our People
Songs of Australian life, from the outback to the city, from the Dreaming to the 21st century. This concert takes you on a journey, sometimes confronting, sometimes hilarious, through our history and our way of life.
Lest We Forget
In the 100 years since the ANZAC campaign at Gallipoli Australia has grown, struggled, and created a unique identity. The effects of war and peace permeate our culture, from the frontier wars to two World Wars and post-war immigration. And refugees fleeing war and terror still seek to make a life here. This multi-media concert of original songs and evocative images will take you on a powerful journey.
Songs of Life, Love and Laughter
A concert of songs to touch the heart strings, and tickle the funny bone with songs on big themes, everyday life's little occurrences, and some just plain silliness!
Chaos Theory in Action: Parenthood in the Third Millennium
A concert on the joys, tribulations and absurdities of raising children - from the sperm, to toddlers with attitude, vasectomies and answering the eternal question: "Are we there yet?"
Laugh Laugh Laugh
A feast of fun songs. Take a walk on the silly side!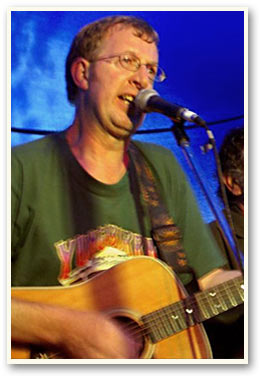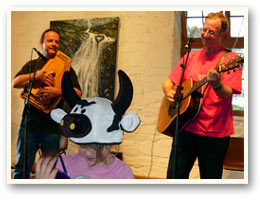 Special presentation:
The Man, The Woman and the Edison Phonograph
Hear the fascinating story behind Bruceís iconic song The Man and the Woman and the Edison Phonograph, with its surprising twists and turns. This multi-media presentation traces powerful a story of history, genocide, technology and the power of a song.
Read about the background to this song.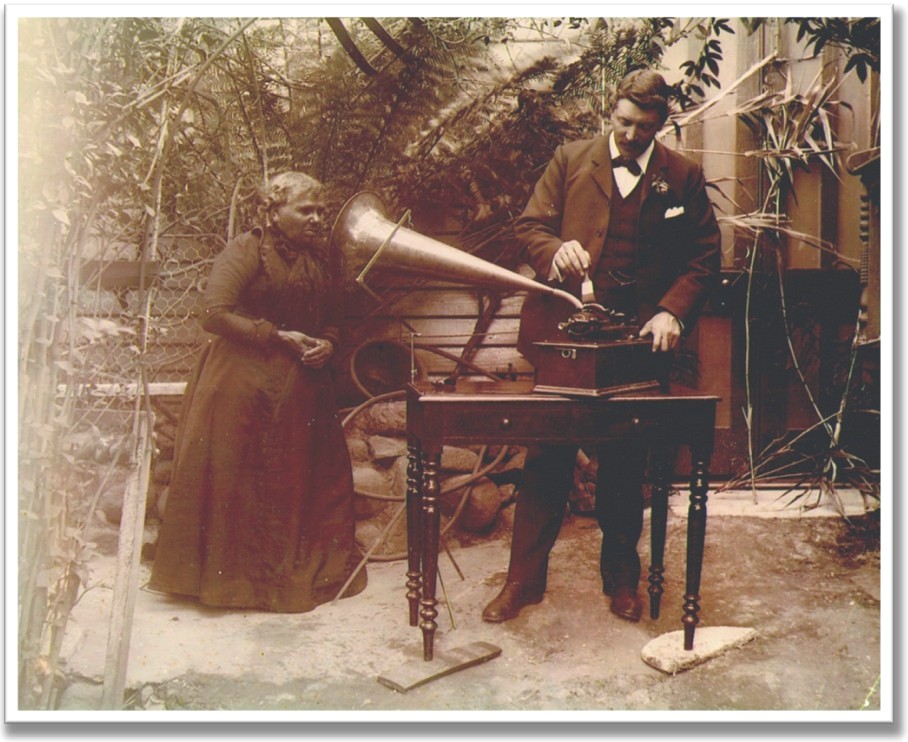 Workshops
Bruce is experienced in conducting workshops on a range of creative topics. Workshops can vary from a minimum of one hour to a series of sessions over several days, depending on the circumstances and setting. All workshops are designed for people with a range of experience and skills, and can be tailored to suit a particular target group.
Ukulele for beginners Ė with songs that donít suck
Join the ukulele tsunami! Itís the easiest, funnest instrument going, and youíll be playing a tune in 5 minutes. And easy tunes donít have to be dull and boring. Bruce is an experienced ukulele group leader of who knows how to make it easy Ė and fun.
The Rules of Rhetoric: Ancient tips for modern songwriters
From alliteration to zeugma! They may sound like diseases but they are time-tested techniques of classical rhetoric. Take a tour through these terms to teach yourself new tricks, learning from the greats from Lincoln and Shakespeare to Lennon and McCartney.
Tickling the Funnybone: Writing funny songs
Everybody loves a good laugh. Sometimes singer-songwriters can get a bit introspective and serious, so a bit of humour can really win the audience over and give variety to any bracket. In this workshop Bruce will share some of the tricks in the trade and you will get a chance to explore how humour works. Youíre sure to have fun at this workshop!
Songwriting Made Easy
There are three basic rules in songwriting – but nobody knows what they are! As a multi-award winning and much covered songwriter, Bruce's philosophy is that we can all do it and will show you how — whether you've never written a song or have written lots but want some tips. This is a chance to explore some of the rules and how they can be broken! In a longer format (over one hour) we will actually do some songwriting in the session.
Performing: It's not as scary as you think
Bruce has been performing for over 25 years and is a regular at Australia's major festivals. He'll share heaps of ideas about translating songs into performance pieces for the stage or recording: getting gigs, dealing with nerves, arranging songs, building a set, engaging the audience, working with PA systems and more.
UKULELE
It was the best Uke workshop ever, and I've been to a few! Robyn Mitchell, Maldon Folk Festival,Vic
We were all delighted, even amazed, at our instant virtuosity. Please keep workshopping, sharing, mentoring, coaching. It's brilliant. Chris Ward, Cygnet Folk Festival,Tas
The beginners ukulele workshop was inspirational and an absolute pleasure, and I have dusted off my instrument and found a local group to join. So thank you! Anna, Tablelands Folk Festival, Qld
I want to say how much I enjoyed your ukulele workshop. I've been driving my family bonkers ever since. You are a very natural and empathic leader, I enjoyed myself very much! Deb Carveth, Community Music Victoria
We really enjoyed the way you managed to cater for a group ranging from complete beginners to people with a good deal of musical knowledge. We all came away having learned something new and had fun too. Jenny B & Mike R, Tablelands Folk Festival, Qld
SONGWRITING
I still refer to your song writing notes and remember fondly the workshop It was really inspirational and very useful for me.
Kerrie Patmore, National Folk School
I must say that the songwriting workshop I did with you at the National Folk School those few years ago remains one of the highlights of my festivalling career.
Julie Barnes, National Folk School